ARTIST: OF VIRTUE
ALBUM: OMEN
RELEASE DATE: SEPTEMBER 29TH 2023
LABEL: ARISING EMPIRE
REVIEWER: ANDREW TREADWELL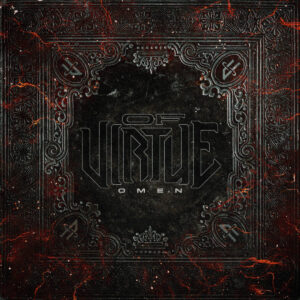 Friends Of The Zen, Of Virtue have given 2023 a solid kick in the ass with their latest offering "Omen". It's the Michigan boys first full length in 4 years and its most definitely worth the wait, and will likely be something different for those familiar with the band.
These boys now how to get you ready for the pit, but also mix it with amazing melodies, which I do feel a lot of hardcore bands struggle with. Right away the title track is sucking you in to the vortex, with some heavy chunk on the guitars. The chorus sells me on this one, just amazing with the textures.
"Hypocrite" gives off some Korn and Linkin Park vibes for me in the intro but then it leads into a full steam roller. The clean vocals on this one make the song, its one thing to have a massive scream, but when you can dial it right back to the cleans in a heartbeat shows some real talent.
"Cold Blooded" is a radio friendly track with all the things you want from a good singalong car track. Its got some pop elements without going over the ledge and making it forced. If only Australian Radio would embrace new heavy artists, it might help fans find great bands like Of Virtue
"Cut Me Open" is a love song gone wrong, or should I say, end of love song. A little bit industrial in parts, but still not faking it, its a great song that would be a live staple for me
"Sober" is one of the singles, and for good reason, the lyrics, the story and the accompanying video is just stunning, the band have done themselves proud with this anthemic masterpiece. Just amazing.
"A.N.X.I.E.T.Y." is your new set opener boys, please make it so! Holy shit, what a ripping song. I see many pits opening and many speeding tickets to those listening behind the wheel. There is so much power in this track and it has the breakdown from hell. Damn!
"Floating", features Rory Rodriguez of Dayseeker, this has the orchestral anthemic vocals that remind me of a heavier version of Evanescence, but there is no rip off here, its all the boys on this one. The builds through this track are just brilliant.
"True Colours" was another single in the lead up to the album and I think another great choice that with the right placement on radio, could open up these guys to a whole new fanbase. Its got all the flavours in this one. Another album standout for me.
"Sinner" brings the pace down, with a far more commercial tone, and its easy to see why its achieved the streaming numbers it has, it has such a wide ranging appeal
"Holy" really shows Damon's clean vocal strength and also how well he and Tyler work together on their vocals, there are many bands that just have their cleans and heavy's as separate entities, but not these guys, they weave in and out continuously
"Cannibals" is crazy catchy and made for the live stage, but I would have liked to have seen this one further up the album as I think its missed and buried in the tail end
"False Idols" closes out the album in epic fashion, some electronica to begin, some big choruses, a great solo and breakdown for good measure gives the sense this was deliberately constructed to close the album.
The album is a complete listen, and I come from that school of an album should be a front to back listen, not a collection of songs thrown together but solely focusing on the singles. Of Virtue have delivered this, its worth your time and your money. Well done boys