ELLA HOOPER ANNOUNCES OH MY GODDESS! SINGLE TOUR THIS OCTOBER – DECEMBER
THE FINAL TRACK FROM ALBUM SMALL TOWN TEMPLE,
OUT NOW – LISTEN HERE
Ella Hooper dug deep on her 2023 solo album, Small Town Temple, and the story is complete with the final single from the record, 'Oh My Goddess!'. It is the sound of an artist coming to terms with her past – "shaking my demons out" – and asserting her independence. Pre-save / pre-add 'Oh My Goddess!' HERE ahead of September 9 release.
Ella unleashes the goddess within, declaring: "I ain't gonna kneel for no one. I ain't gonna smile and sing along. I'll be my own goddess, I'll be my own man."
"This song has been a clear crowd favourite," Ella says. "It's about geeing yourself up, slapping yourself on the back, accepting what you're still working on and taking the plunge anyway."
"It's kind of the flip side of 'Old News', the very first single, which pondered similar themes from a less convinced, confident standpoint. 'Oh My Goddess!' is the results – a rallying cry! Not to sound too trite, but self-work works."
It's a song that everyone can relate to. "We all have stuff," Ella notes. "And not all of it is rosy."
Ella will hit the road this October to December on the 'Oh My Goddess!' single tour, with special guest Van Walker, following a star turn with James Reyne over the last few months on the Way Out West tour.
Ella explains, "Releasing Oh My Goddess! feels like the perfect final chapter to the Small Town Temple story, which has been more colourful, busy and action packed than I could have imagined! And fittingly – so is this song! It's an account of how the night is darkest before the dawn, and sometimes you've got to 'go to goo' to come out of the chrysalis stronger, clearer, more empowered and ready to rock.
It's a clear crowd favourite, I really noticed people connecting with it and made me realise we've all been doing our own post-covid ruminating and coming out of the challenges of the last few years, and I'm thrilled to be able to offer a song for that feeling, of breaking through.
"Van has been a friend and inspiration for 10 years or so … his songs have soundtracked many important moments in my life. It's going to be so fun to team up for this tour and collaborate on one of my favourite songs of his, as a special b-side for this single. He is a genuine troubadour who makes a real mark on every stage he graces. I can't wait to combine our powers for a duet set at each of these shows, our voices are so different but complimentary, and we get to show people the kind of thing we've been doing around campfires and after party couches for years, on stage!"
Small Town Temple – a deeply personal exploration of family, friendship, community and childhood memories – had a Top 10 debut on ARIA's Australian albums chart. And it's been the most critically acclaimed album of Ella's career, which started when she was a teenager.
The release of 'Oh My Goddess!' caps a remarkable year for the singer and songwriter. "I put big things out there and sometimes big things happen," Ella smiles. "I always need new challenges, I need to throw myself curveballs, and new material is the best way of doing that."
"It's been a very rewarding year," Ella says. "Changing things up made it all feel fresh again. And I've realised that making music and playing it live for people is the best job in the world."
CATCH ELLA HOOPER LIVE ON THE OH MY GODDESS! SINGLE TOUR
With special guest VAN WALKER
Tickets on sale now
SHOW FORMAT:
Van Walker
Ella Hooper – Duo
Ella Hooper and Van Walker – Trio
October 27 – Tanswells Hotel, Beechworth, Vic – tickets HERE
October 28 – The Vanguard, Sydney, NSW – tickets HERE
November 3 – Royal Oak, Launceston, Tas – tickets HERE
November 4 – Gnomon Room, Ulverston, Tas – tickets HERE
November 5 – Longley Hotel, Longley, Tas – tickets HERE
November 10 – Sooki Lounge, Belgrave, Vic – tickets HERE
November 11 – Brunswick Ballroom, Melbourne, Vic – tickets HERE
November 17 – Bird's Basement, Melbourne, Vic – tickets HERE
December 2 – Lefty's Music Hall, Brisbane, QLD – tickets HERE
December 3 – Sunshine Beach Surf Club, QLD – tickets HERE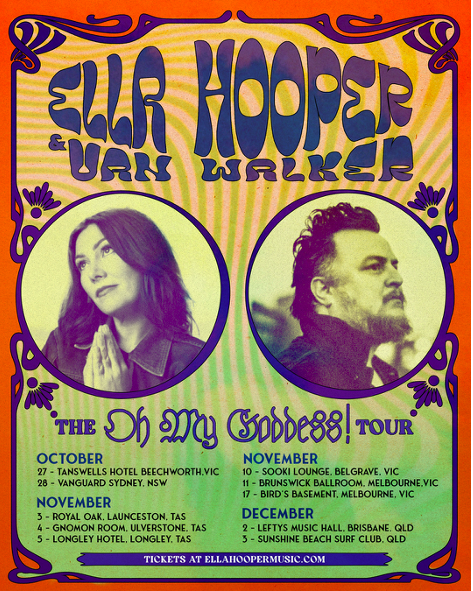 CONNECT WITH ELLA HOOPER