SHARES NEW SINGLE 'DON'T DATE THE TEENAGER'
LISTEN HEREWATCH THE VIDEO HERE
TAKEN FROM HER FORTHCOMING ALBUM

TO BE RELEASED AUGUST 18
AVAILABLE FOR PRE ORDER NOW

GRETTA'S 'THE BIG POP SHOW' NATIONAL TOUR ON THE ROAD THIS SEPTEMBER
CLICK HERE FOR DATES & TICKETING INFO
Gretta Ray today releases her latest single 'Don't Date The Teenager', lifted from her forthcoming album Positive Spin, a pure pop project that comes to you bathed in golden light, a hazy sunset of love and heartbreak, growth and understanding… a project full of beautiful moments of classic and emotive pop set for release on August 18 and available for pre-order now.
'Don't Date The Teenager' takes Gretta back to heartbreak territory, the song is a candid take on a failed relationship, exploring the kind of knowing that only comes with a few years and a more informed world-view. It's biting and fun, and pairs beautifully with 'Dear Seventeen', Gretta's first single from this album.

"Pop music has been such a therapeutic, rewarding safe space for me over the years. You can take a heavy topic, add some synths and some uplifting call-and-response harmonies, and gradually, the heavy topic is transformed into a catchy, fun and healing bop, lifting you up instead of pulling you further down into that awful, weighty feeling. I've always seen 'Don't Date The Teenager' as this metaphorical hand that could possibly help pull someone out of that emotional quicksand, especially due to the juxtaposition of the production and the deep self reflection within the lyrics. It is definitely the most honest I've ever been in a song, but the honesty I hope, will amplify the importance of the message" explains Gretta.
WATCH THE VIDEO FOR 'DON'T DATE THE TEENAGER' HERE:
From a Triple J Unearthed win in 2016, to the Vanda and Young Global Songwriting Prize, it's hard to imagine a more impressive start for Gretta Ray. Her 2021 debut album Begin to Look Around was nominated for both an ARIA Music Award (Breakthrough Artist – Release) and a J Award (Australian Album of the Year). Add to that a sold-out headliner tour in 2022, an Australian arena tour supporting Gang of Youths and a viral – moment – with her poignant and entirely breathtaking cover of Billy Joel's Vienna on TikTok (a dazzling high that has so far hit over 20 million streams, 350 million views, 35 million likes and half a million creates across socials, globally).
Positive Spin does what every sophomore album hopes for, it both extends and refines the work of the artist. The tone and agility of Ray's vocals give her lots of room to play, and her maturity as both a songwriter and a performer is evident.
Ray feels entirely at home in herself with this album, making and embracing her best and most honest work yet: "Being in pop music and being a woman in pop music… your perception of where you're at can get very warped. I'm starting to really settle into my mid-20s… I feel stronger now than I ever have… I am so much more equipped to do the job now, and to be this person now… I feel really empowered by the knowledge that I have gotten, over the years of experience that I have had in this industry".
GRETTA RAY – NEW ALBUM 'POSITIVE SPIN' OUT ON AUGUST 18
'POSITIVE SPIN' TRACKLISTING
1.Positive Spin
2.Upgraded
3.Nobody Here
4.Heartbreak Baby
5.Dear Seventeen
6.Don't Date The Teenager
7.Loving Somebody
8.The Cool Boy
9.Can't Keep It Casual
10.You've Already Won
11.Light On
12.America Forever (with Maisie Peters and Carol Ades)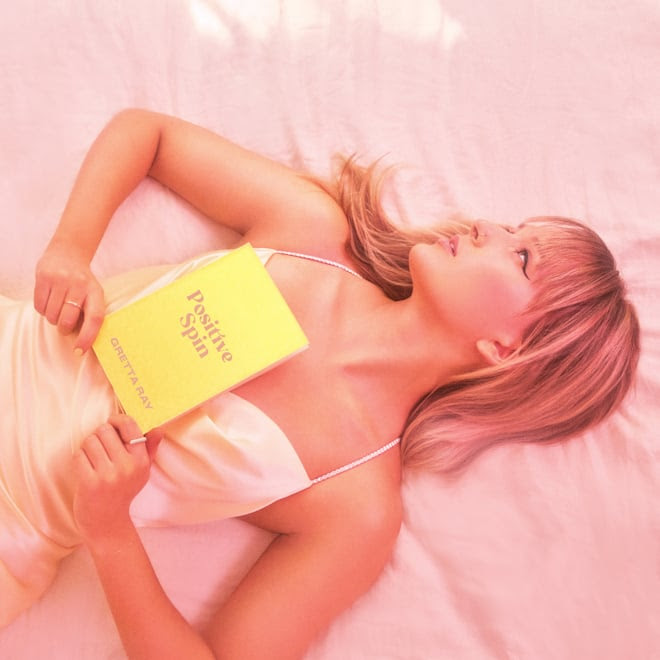 GRETTA RAY 'THE BIG POP SHOW' NATIONAL TOUR
FRI 15 SEP – PRINCESS THEATRE, BRISBANE, QLD (LIC/AA)
SAT 16 SEP – METRO THEATRE, SYDNEY, NSW (LIC/AA)
FRI 22 SEP – NORTHCOTE THEATRE, MELBOURNE, VIC (18+)
SAT 23 SEP – ASTOR THEATRE, PERTH, WA (LIC/AA)
FRI 29 SEP – LION ARTS FACTORY, ADELAIDE, SA (LIC/AA)
SUN 1 OCT – NORTHCOTE SOCIAL CLUB, MELBOURNE, VIC *U18 MATINEE