BEARINGS
RELEASE NEW SINGLE
LIVE FOREVER NEVER DIE

NEW ALBUM
THE BEST PART ABOUT BEING HUMAN
DUE OUT AUGUST 18
Ontario, Canada – Bearings have released Live Forever Never Die, the newest single from their upcoming album The Best Part About Being Human. On the new track, the band explains, "Live Forever Never Die is a song that us felt like the perfect mix of the big chorus and vibey versus. Hoping to live forever in warm weather and taking in the little things like the water wrapping around your legs. Less of literally living forever but rather living forever in a moment."
Watch the video for Live Forever Never Die here:
Recently, Bearings announced their third album The Best Part About Being Human, due for release on August 18 via Pure Noise Records and shared lead single Gone So Gone. Produced by Sam Guaiana (Silverstein, Between You & Me), the new album features the most tightly honed songwriting of Bearings' near-decade career, instantly nostalgic for sweaty summer festivals and finger-pointed singalongs while serving as a clear indication of where the pop-punk genre is headed.

"The Best Part About Being Human is being alive and the second best part is writing an upbeat and exciting record with your brothers in a small house in North Hollywood," says the band. "This record was us figuring out what we really wanted to play live, what got us excited, and I think we found that."

By the time Bearings got the chance to properly tour their sophomore album, 2020's Hello, It's You, 16 months had passed due to, well, you know the story. But despite the false starts getting back onto the road, in a roundabout way the delayed gratification might have been the very best thing for the Ottawa-based pop-punk quintet and their passionate fans alike.

"I thought not being able to tour the record would be a death sentence, but it allowed people to sit with the album and connect to it in deeper ways," says vocalist Dougie Cousins. "When we finally went and did our headline tour in 2022, crowds really knew the songs."

In the end, Hello, It's You solidified Bearings' place as genre mainstays, elevating a tried-and-true pop-punk sound Alternative Press hailed as "dangerously catchy" that "could bring down a summer barbeque, if not a festival," while their home and native land's Exclaim! said Bearings had "entered the pop-punk big leagues."

But as Cousins, guitarists Ryan Culligan and Ryan Fitz, bassist Collin Hanes and drummer Mike McKerracher began work on LP3 (their Pure Noise debut, Blue In The Dark, dropped in 2018) with producer Sam Guaiana (Silverstein, Between You & Me), they channeled their triumphant return to the stage in sweaty U.S. and Canadian clubs, opting for a more minimalistic approach to the songwriting process.

Centering the most elemental, essential qualities of their musicianship without falling into the kid-in-a-candy-store trappings that bog down so many artists, Bearings' third album for Pure Noise, The Best Part About Being Human, is the sort of record that begs to be played loudly, the sounds of sunny SoCal filtered through the lens of the Great White North.

"We just wanted to make a fun record," Cousins espouses. "Sometimes when an album is so thought out, it's got to be as good as American Idiot or it comes off as trying too hard. I think we did new things without sending it into outer space. To me, this record sounds like how I felt when I was in grade 10 listening to blink-182: not too serious, just a good time and able to open up a little circle pit. I think we succeeded in writing songs we can play in a basement or in front of 2,000 people."

Bearings will be hitting the road in North America with Just Friends, Young Culture, and Youth Fountain on The Alive And Loud Tour this September.

The Best Part About Being Human is out August 18 via Pure Noise Records.
Pre-order The Best Part About Being Human here

Stream Live Forever Never Die here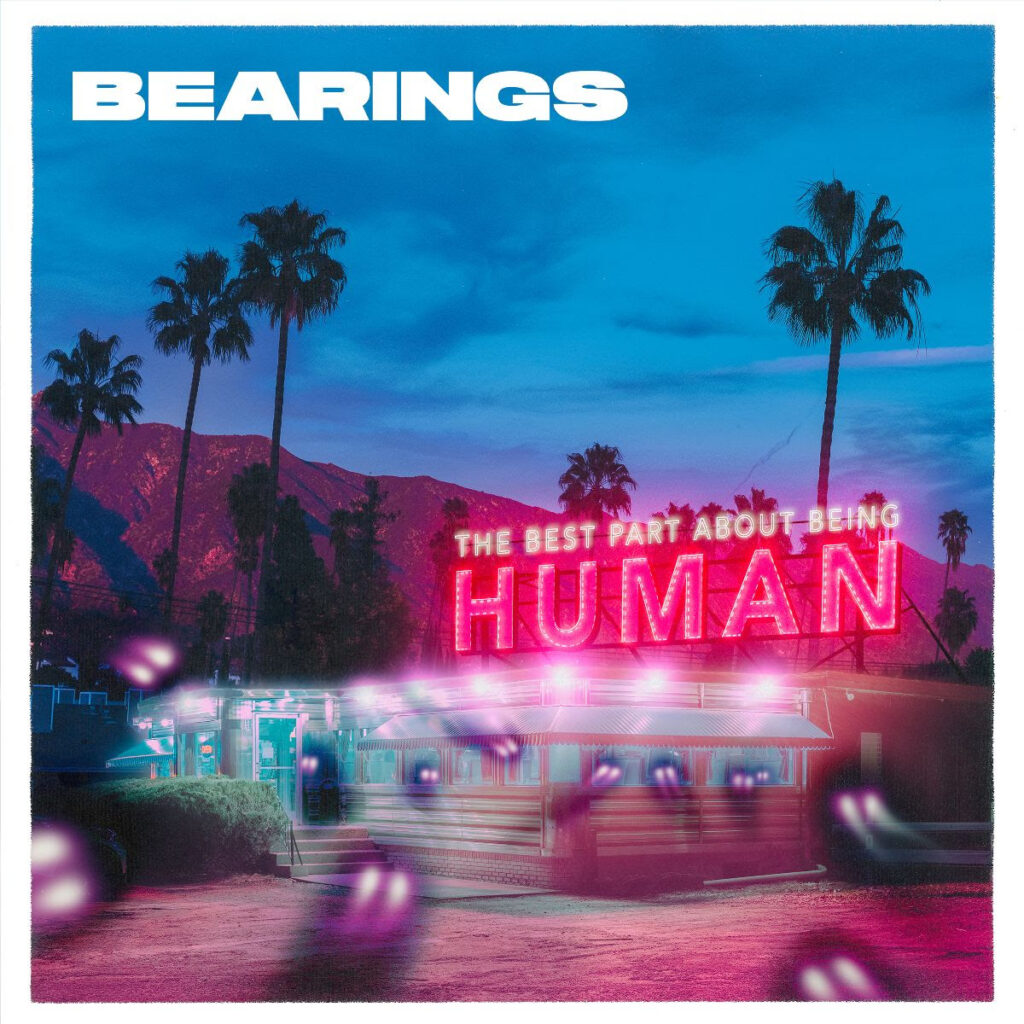 THE BEST PART ABOUT BEING HUMAN TRACK LISTING:
01. Shaking Up The Scenery
02. Don't Wanna Forget About It
03. Gone So Gone
04. Go Long
05. Ocean Dream
06. Howie, You're A Freak
07. Slip
08. Live Forever Never Die
09. I Want To Heal
10. Human