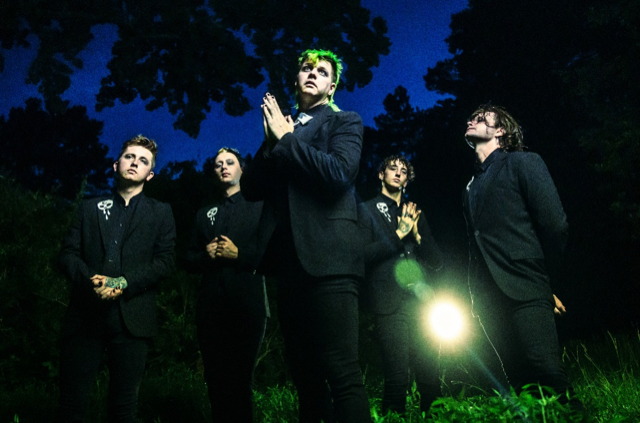 THE FUNERAL PORTRAIT
Release Taunting New Single & Music Video "Generation Psycho"
"So you can crown me the king of misery
Cause I don't want your American dream."
Combining modern rock anthems with emo-drenched pop-punk melodies, THE FUNERAL PORTRAIT caters to outcasts from all walks of life. Their over-the-top theatrics and loud, uncompromising music offer audiences a sense of community where the "weird kids" can let loose. The band have today (August 4) released the new single "Generation Psycho," a sarcastic take on our current cultural climate. "Generation Psycho" will be featured on THE FUNERAL PORTRAIT's debut album due later this year via Better Noise Music. The massive, no-holds-barred forthcoming release was co-produced by Johnny Andrews (Three Days Grace, Motionless In White, Halestorm) and Josh Landry, aka Lø Spirit (Motionless In White) while mixing and mastering was completed by Jacob Hansen (Volbeat, Arch Enemy).
Listen to "Generation Psycho" streaming across all digital platforms
A horror-inspired music video for "Generation Psycho" can be seen here
"'Generation Psycho' is a statement piece from our band, a song about the out of control feeling so many people have about our culture, our society, and our government," shares vocalist Lee Jennings. "The song captures the creeping fear of the future, of being outcasted and abandoned, and of falling through the cracks. We are hoping to connect with the disenfranchised and struggling with this song, the people who don't know where to turn for help or guidance. We want to offer solace for people in this situation, so they know they are not alone in their fears, worries, and anxieties for themselves & their loved ones. So often it does feel like the whole world has gone crazy. We are no strangers to it and empathize with the experience."
THE FUNERAL PORTRAIT—Lee Jennings (vocals), Cody Weissinger (guitar), Caleb Freihaut (guitar/auxiliary), Robert Weston (bass) and Homer Umbanhower (drums)—have built an unwavering fanbase, The Coffin Crew, whom they devote their music to thus labelling their live performances as 'devotion ceremonies.' The 'devotion ceremonies' consists of full theatrics, stage décor, costumed actors and more. With previous tours alongside acts including Shinedown, Underoath, Skillet, Bad Wolves, From Ashes To New, Starset and Pvris under their belt anda main stage set at Inkcarceration Festival, THE FUNERAL PORTRAIT will bring their devotion ceremonies to audiences across the U.S. this fall. The band will next be seen opening for horror rock mainstays Ice Nine Kill for their "Silver Scream Concert" on September 9 in Lynn, MA which takes place amidst Ice Nine Kills' horror convention, Silver Scream Con. They will then make their way to Greenville, SC on September 13 to join the "Emo Dreams Tour" with Icon For Hire, Conquer Divide and Concrete Castles. The tour will make its way across the U.S. and a stop on September 22 in Toronto, ON before wrapping up on Halloween, October 31 in Memphis, TN. All upcoming dates can be found listed below. Tickets are on sale now at www.tfpcoffincrew.com.
Follow THE FUNERAL PORTRAIT online at
 Facebook | Instagram | Twitter | TikTok | YouTube