FOUR OF AUSTRALIA'S BEST MALE VOCALISTS COME TOGETHER TO CELEBRATE ONE OF THE GREATEST ALBUMS OF ALL TIME
 
THE WHITE ALBUM
 
WITH CHRIS CHENEY, PHIL JAMIESON, JOSH PYKE & TIM ROGERS
It's one of the most successful Beatles events ever staged in Australia. Following sold out tours in 2009, 2014 and 2018 Chris Cheney (The Living End), Phil Jamieson (Grinspoon), Tim Rogers (You Am I), and ARIA Award-winning solo artist Josh Pyke are once again taking to the stage to celebrate one of the great albums of all time The Beatles' White Album.

Tickets on pre-sale from 4th July and general on sale from 8th July via https://whitealbumconcert.com/.
Thursday 7 September: Perth – Perth Convention Centre
Friday 8 September: Adelaide – Festival Theatre
Saturday 9 September: Melbourne – Hamer Hall
Friday 15 September: Newcastle – Civic Theatre
Saturday 16 September: Canberra – Canberra Theatre Centre
Thursday 21 September: Brisbane – Brisbane Convention & Ent. Centre
Friday 22nd September: Sydney – Sydney Opera House
Saturday 23rd September: Sydney – Sydney Opera House
 
 Chris, Phil, Josh and Tim will perform the White Album from start to finish – with a few surprises along the way – playing at some of Australia's finest venues.  They are backed by a 17-piece rock orchestra, led by musical director Rex Goh, with guitars, strings, horns and two drummers.
 
"I come from a three-piece band, that's what I've done since high school, so it's such a thrill to be on stage with so many people," says Chris, The Living End's singer and guitarist. "The great thing about The White Album Concert is it's a big, powerful rock show. It's incredible to be standing in front of that force."
 
Released on November 22, 1968, The Beatles' self-titled ninth studio album became known as the White Album due to its distinctive plain white cover.  It spent 16 weeks at number one in Australia.
 
Opening with Paul's 'Back In The U.S.S.R' and concluding with 'Good Night', sung by Ringo, the 30-song White Album features classics such as 'Helter Skelter', 'While My Guitar Gently Weeps', 'Blackbird', 'Why Don't We Do It In The Road?', 'Glass Onion', 'Birthday' and 'Revolution 1'. This major work bursts with variety, creativity, experimentation, and the genius of The Beatles during one of their most intense, fertile, periods. It is a timeless album, yet very much of its time.
 
Chris, Phil, Josh and Tim stress that they're not imitating John, Paul, George and Ringo. This is a celebration, not a tribute band.
 
"We're bringing what we do in our own bands and our own careers to the show," Chris explains. "This is not us pretending to be The Beatles."
 
"We're aware there are people who covet The Beatles' records and their legacy so dearly," Tim continues. "And we want to pay respect to that, but almost tickle it a little bit, or prick it a little bit, because we're not a tribute act and we have no desire to do that. So we want to reinterpret it but not be disrespectful. But then also thinking that rock 'n' roll is about being disrespectful."
 
"In a respectful way," Josh adds. "None of us does the songs exactly the way The Beatles did them, because then it would be like a pastiche rather than a homage. It's a completely different mindset to get into someone else's songs and, like Tim said, show the songs the respect they deserve; not just cover a song but really put yourself into it."
 
The White Album – which followed The Beatles' venture to India and the death of their manager, Brian Epstein – is one of the 10 greatest albums of all time, according to Rolling Stone. The magazine's founder and publisher, Jann Wenner, called it "the history and synthesis of Western music".
 
"Whatever else it is or isn't, it is the best album they have ever released … You are either hip to it, or you ain't" – Jann S. Wenner, Rolling Stone, December 21, 1968
 
"It's such a diverse record," Josh says. "And it was kind of an experimental record for them at the time. It's hard to sum it up and I think that's the beauty of the record and why so many people love it. It is hard to put it in a box."
 
"Musically and lyrically it's iconoclastic," Tim says, while Phil dismisses any suggestions that it would have been better as a single record instead of a double album. "Far out, I love the body of work, it's incredible! I don't know how you could change it."
 
Chris, Phil, Josh and Tim are doing something The Beatles never did – the Fab Four never performed the White Album live. "That's the other cool thing about this project," Chris says. "You can't go on YouTube and look up The Beatles playing anything off the White Album because they just didn't."
 
"When we first did it, we didn't know what it would be, or how it would work," Phil says. "It was an incredibly nerve-racking experience, because it's a mammoth record and the material is so diverse. But we made it work. People really enjoyed it, and we got such a kick out of it.

"We're excited to be doing it again."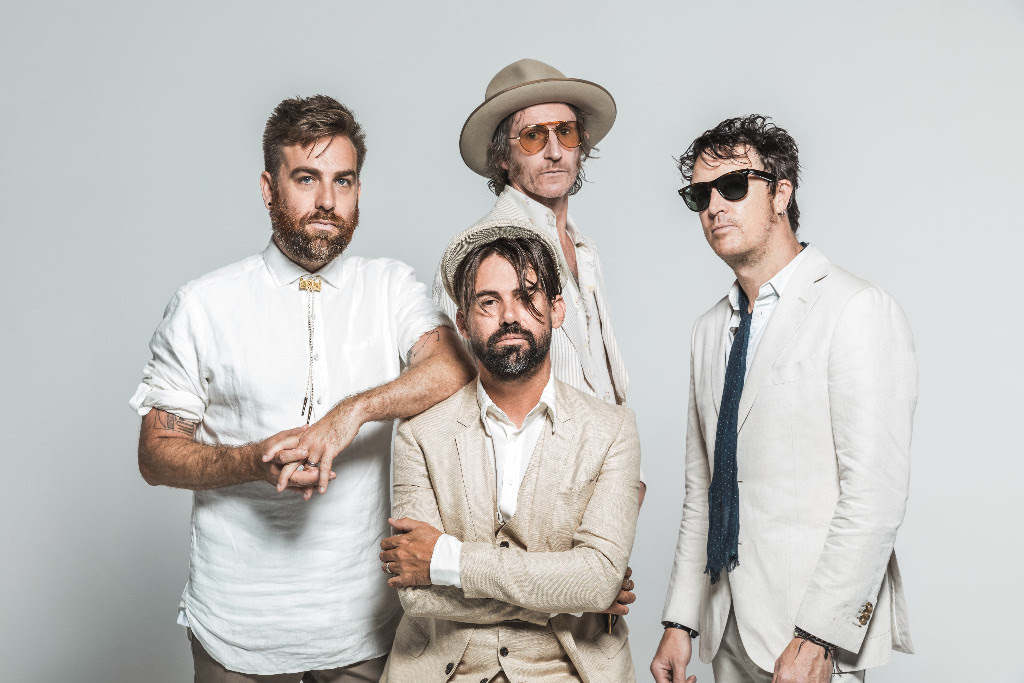 THE ARTISTS:
 
CHRIS CHENEY is the lead singer and guitarist in The Living End, who have had eight Top 10 albums (including two number ones), 12 Top 40 singles, and won six ARIA Awards. Fun fact: Chris has met a Beatle – he met Ringo at a party in LA.
 
PHIL JAMIESON is the frontman of Grinspoon, who have released seven studio albums – all of which have made the Top 10 – and won two ARIA Awards. He also starred as St Jimmy in the Australian production of the Broadway musical American Idiot. Fun fact: Phil's wife, Julie, walked down the aisle to the White Album's 'I Will'.
 
JOSH PYKE is a Sydney singer-songwriter, who has won four ARIA Awards and had five Top 10 albums. He has also had his own beer, "The Summer", with Sydney brewery Young Henrys. Fun fact: Josh's favourite line on the White Album is "In a couple of years" from 'Ob-La-Di, Ob-La-Da'. "I just think that's great."
 
TIM ROGERS is the frontman of You Am I, who have released 10 studio albums, won 10 ARIA Awards, and had three number one albums. He has also released six solo albums and an acclaimed memoir, Detours, in which he is described as a flamboyant flâneur, a raconteur, a romantic, and a raffish ne'er-do-well. Fun fact: Tim had a babysitter who would play 'Revolution 9' when young Tim was trying to go to sleep. "That song has always haunted me."
 
 
THE WHITE STUFF
10 FACTS ABOUT THE WHITE ALBUM
 
Most of the White Album songs were written during a Transcendental Meditation course The Beatles had with Maharishi Mahesh Yogi in Rishikesh, India.
 
The working title for the album was "A Doll's House".
 
The White Album was the first Beatles album to be released on Apple Records.
 
The White Album hit number one in the US (9 weeks), the UK (eight weeks) and Australia (16 weeks).
 
The White Album was knocked off top spot on the UK charts by The Best Of The Seekers.
 
'Hey Jude' was recorded during the White Album sessions, but was issued as a standalone single three months before the album was released.
 
No singles were released from the album in the US and UK, but 'Ob-La-Di, Ob-La-Da'/'While My Guitar Gently Weeps' was released as a single in Australia and spent five weeks at number one.
 
Eric Clapton played lead guitar on 'While My Guitar Gently Weeps'.
 
The White Album is the first – and only – Beatles album to feature Yoko Ono. She appears on 'Revolution 9', and contributes backing vocals to 'Birthday', and vocals and handclaps to 'The Continuing Story of Bungalow Bill'.
 
Ringo Starr's personal copy of the White Album, numbered 0000001, sold for $790,000 at auction in 2015 – the most expensive vinyl ever sold.