QUEENS OF THE STONE AGE ANNOUNCE
'THE END IS NERO'
SUMMER 2024 AUSTRALIAN TOUR
QUEENS OF THE STONE AGE FAN CLUB PRESALE: 11AM (LOCAL)
WEDNESDAY 25TH OCTOBER
LIVE NATION PRESALE (TAS): 11AM (LOCAL) WEDNESDAY 25TH OCTOBER
LIVE NATION PRESALE (EX TAS): 12PM (LOCAL) FRIDAY 27TH OCTOBER

GENERAL ON SALE: 1PM (LOCAL) MONDAY 30TH OCTOBER
BUY TICKETS VIA LIVE NATION HERE
BUY/STREAM: QUEENS OF THE STONE AGE – IN TIMES NEW ROMAN…
Queens of the Stone Age officially announce 'The End Is Nero' Summer 2024 Australian tour, the band's first appearance in Australasia since 2018. The official announcement comes after the band excitedly teased the news via social media last week, "sending shockwaves of excitement through the Gold Coast and beyond." – GC Mag.
The far-reaching tour, hailed by NME as "a band reaching the peak of their powers" and the Lincoln Star Journal to proclaim it "the best rock show I've seen in a very long time" will see the band start at Red Hill Auditorium in Perth on 10th February, ahead of shows in Adelaide, Hobart, Torquay, Melbourne, Sydney, Gold Coast and Brisbane.
'The End is Nero' tour is in support of their acclaimed eighth studio album, 'In Times New Roman…' which debuted at #2 on the ARIA charts and which NME Australia described as "their darkest, knottiest material to date.' The End Is Nero tour is an invitation from Joshua Homme, Troy Van Leeuwen, Michael Shuman, Dean Fertita and Jon Theodore to come celebrate the end of the world, which we hear is "in a month or two." They would like to encourage the obscene and the clean, the outcasts and the weirdos, and anyone and everyone in between to attend, this is where you belong. Leave your judgement at the door, bring anything and everything else.
For all shows, Queens of the Stone Age fan presale begins 11am (local) Wednesday 25 October.
My Live Nation members can secure tickets during the My Live Nation presale beginning 11am (local) Wednesday 25 October for the Mona Lawns, Hobart show and for all other shows, beginning 12pm (local) Friday 27 October.
General on sale begins at 1pm (local), Monday 30 October. For complete tour and ticket information, visit: qotsa.com, and livenation.com.au.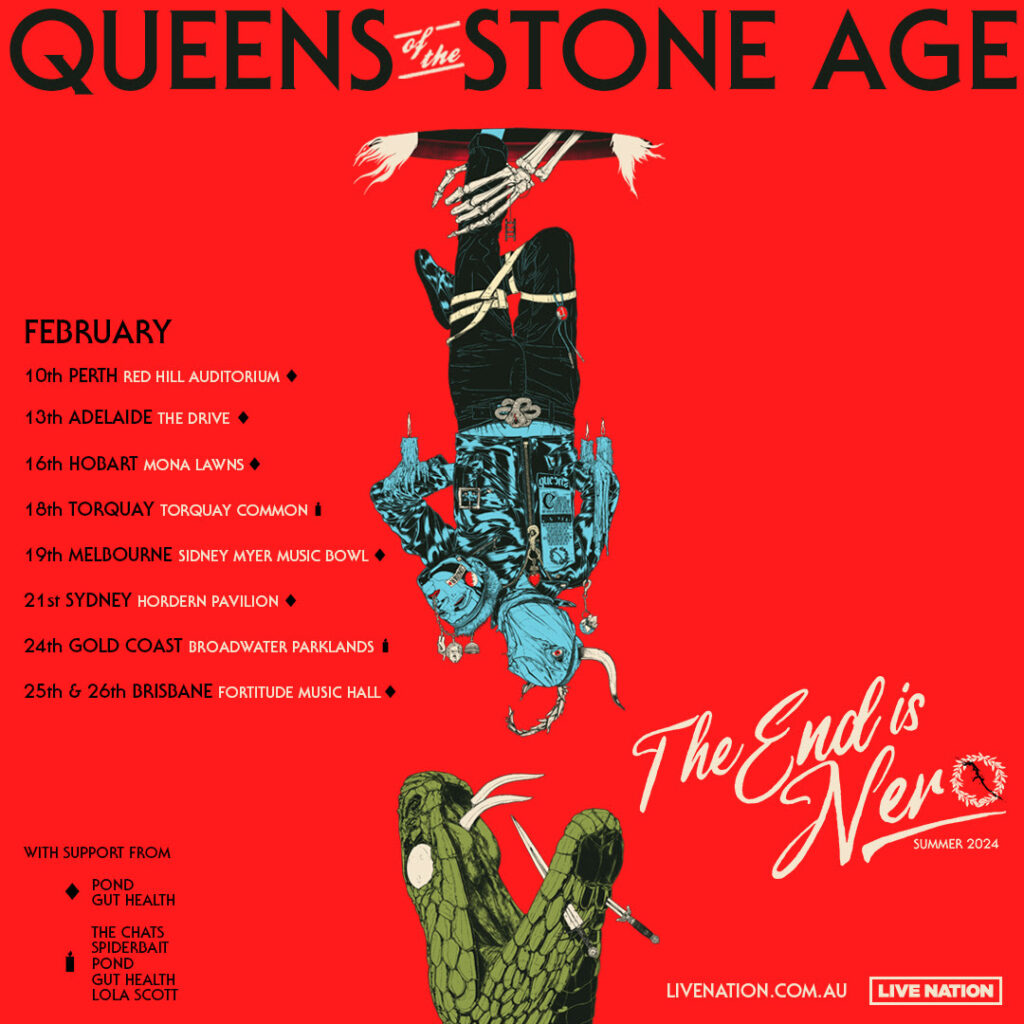 QUEENS OF THE STONE AGE – THE END IS NERO
AUSTRALIAN TOUR | SUMMER 2024
Sat 10th Feb 2024 – Red Hill Auditorium, Perth *
Tues 13th Feb 2024 – The Drive, Adelaide *
Fri 16th Feb 2024 – Mona Lawns, Hobart *
Sun 18th Feb 2024 – Lookout, Torquay Common, Torquay ^
Mon 19th Feb 2024 – Sidney Myer Music Bowl, Melbourne *
Wed 21st Feb 2024 – Hordern Pavilion, Sydney *
Sat 24th Feb 2024 – Lookout, Broadwater Parklands, Gold Coast ^
Sun 25th Feb 2024 – Fortitude Music Hall, Brisbane *
Mon 26th Feb 2024 – Fortitude Music Hall, Brisbane *
WITH SUPPORT FROM:
* Pond & Gut Health
^ The Chats, Spiderbait, Pond, Gut Health & Lola Scott

TICKETS ON SALE 1PM (LOCAL) MONDAY 30 OCTOBER