ARTIST: KK'S PRIEST
ALBUM: THE SINNER RIDES AGAIN
RELEASE DATE: SEPTEMBER 29TH 2023
LABEL: NAPALM RECORDS
REVIEWER: MERT TYSON
"The Sinner Rides Again" by KK's Priest is a heavy metal masterpiece that takes us back to the roots of the genre. With killer riffs and classic influential guitars and screaming vocals, this album highlights the immense talent of K.K. Priest and what a truly exceptional album and powerhouse of a band they are.
The track listing of this album is nothing short of exceptional. From the killer opening track "Sons of The Sentinel" to the powerful "Strike of The Viper" and the intense "Reap the Whirlwind," each song channels the spirit and soul of heavy metal bands of old.


One cannot help but be impressed by the powerful vocal range of Tim 'Ripper' Owens. His skillful delivery adds an extra layer of intensity to each track, making it a true delight for metal enthusiasts. The fast-paced, aggressive, and hard-hitting sound throughout the album is synonymous with the iconic Priest feel. The combination of Tony Newton's thunderous bass lines and Sean Elg's relentless drumming creates a killer backline and rhythm section, coupled with A.J. Mills shredding alongside KK you will have those horns raided and that head banging from start to finish.

From punchy chords to captivating melodies, "The Sinner Rides Again" offers a perfect balance between heavy-hitting aggression and memorable hooks. It is an album that pays homage to the golden era of metal while still feeling fresh and exciting, this album is a pure delight.

"One More Shot at Glory" captures the essence of the album, this anthem drives it home an exception Ripper's vocals while "Hymn 66" stands out as a true masterpiece and my personal favourite track off the album, this song is Metal at its best couple with an outstanding video. It is evident that KK Downing, being one of the first pioneers in metal, has crafted something truly remarkable here. As we delve further into the album with tracks like "The Sinner Rides Again," "Keeper of The Graves," and "Pledge Your Souls," it becomes clear that this collection is a testament to the power and passion with killer solos, incredible musicianship, breathtaking vocals, and technical skill.

With its ability to wash away your sins through its raw energy and captivating melodies, this album takes us on a journey that pays homage to the roots of heavy metal while still forging its own path.
"The Sinner Rides Again" is bound to leave an impression on any fan of the genre with their masterful musicianship and undeniable chemistry as a band, they have crafted a record that will undoubtedly leave a lasting impact on fans worldwide.

In conclusion, KK's Priest has delivered an outstanding album that encapsulates everything we love about Heavy Metal. I personally love this record, for me it is a flashback to my youth, I look forward to spinning this on repeat for quite some time!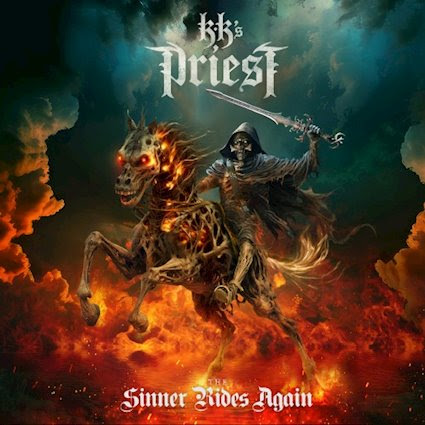 THE SINNER RIDES AGAIN TRACKLIST:
1    Sons Of The Sentinel
2    Strike Of The Viper
3    Reap The Whirlwind
4    One More Shot At Glory
5    Hymn 66
6    The Sinner Rides Again
7    Keeper Of The Graves
8    Pledge Your Souls
9    Wash Away Your Sins
KK'S PRIEST IS:
Vocals – Tim "Ripper" Owens
Guitar – K. K. Downing
Guitar – A.J. Mills
Bass – Tony Newton
Drums – Sean Elg
KK'S PRIEST ONLINE:
Facebook
Instagram
Website
Napalm Records