CLOWNS UNVEIL HIGHLY ANTICIPATED FIFTH STUDIO ALBUM 'ENDLESS'
+ GUT PUNCHING NEW SINGLE 'BISEXUAL AWAKENING'
+ ANNOUNCE NATIONAL AUSTRALIAN TOUR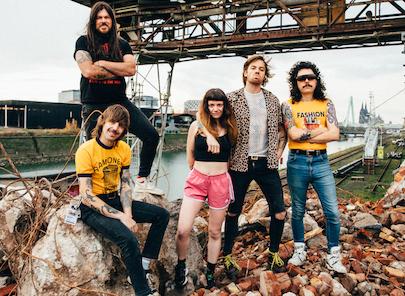 ENDLESS: An Unrelenting Journey of Immortality and Human Exploration.
CLOWNS, the esteemed Australian punk band, proudly announces the release of their fifth studio album, 'ENDLESS'. The record due out October 20, 2023, and available for pre-order Here, unveils an exciting new chapter in the band's storied career and is their first full length offering since 2019's ARIA nominated 'NATURE/NURTURE'.
Accompanying the album announcement is the explosive release of the second single, 'BISEXUAL AWAKENING', along with a provocative music video certain to turn heads and raise eyebrows.
The song, clocking in at 1:49, resounds with unbridled aggression and pays homage to CLOWNS' early days as a hardcore punk band poised for international acclaim. Lyrically, 'BISEXUAL AWAKENING' draws inspiration from singer Stevie's personal journey of sexual exploration and self-discovery. 
Reflecting on the track, Stevie shared, 'Over the years, I've come to fully realise the multi-dimensionality of my sexuality. I was inspired to write a punk song that celebrates the support and community I found during moments of self-discovery in our classic tongue-in-cheek way. Plus, I wanted to see what would happen if I wrote a song about fucking people's dads'.
Written between 2020 and 2022, 'ENDLESS' represents a significant milestone for CLOWNS. During these isolated times, the period forced the band to fully appreciate the importance of in-person rehearsals and studio time to feel connected to their music. As the early home demos unfolded, a powerful theme of immortality emerged in the music, capturing their unyielding determination to persevere and adapt to a rapidly changing world. The concept of immortality naturally revealed itself, first bubbling subconsciously in the band's creative hive mind and eventually taking centre stage in the album's narrative. 'ENDLESS' delves into uncharted sonic territories, incorporating elements of 80s heavy metal, new wave, and analogue synthesizers.
The visual allure of ENDLESS is enhanced by the striking artwork of famed Southern Californian artist Moon Patrol, complemented by captivating logo illustrations crafted by Gina Finehart. The album is slated for release on October 20, 2023, through the band's independently ran record label, Damaged, in Australia and New Zealand, and via the revered punk record label Fat Wreck Chords in all other territories, affirming CLOWNS status as the second Australian punk band to join the highly esteemed 30-year-old label behind punk legends Frenzal Rhomb.
In conjunction with the album and single releases, CLOWNS will embark on a highly anticipated national Australian tour, supported by label mates VOIID. This marks their first proper headline tour since 2019, just before the world descended into unprecedented chaos. With a swathe of postponed shows now completed behind them, and their creative ideas born over the pandemic now crystallized into their most compelling record to date, 'ENDLESS' promises to serve as an emphatic conclusion to the tumultuous past few years, ushering in a new chapter for the band and igniting a fresh wave of thrilling prospects.
FRIDAY OCTOBER 20th – 170 RUSSELL, MELBOURNE/NAARM
SATURDAY OCTOBER 21st – LION ARTS FACTORY, ADELAIDE/KAURNA
SATURDAY OCTOBER 28th – CROWBAR, SYDNEY/EORA
FRIDAY NOVEMBER 3rd – AMPLIFIER, PERTH/BOORLOO**
SATURDAY NOVEMBER 11th – THE BLACK WREATH, ALICE SPRINGS/MPARNTWE**
SATURDAY NOVEMBER 18th – THE BRIGHTSIDE, BRISBANE/MEANJIN
(** VOIID not appearing)
Tickets on sale now from www.clownsband.com
Pre-order 'ENDLESS' Here
Experience the powerful soundscapes of 'BISEXUAL AWAKENING 'on all major streaming platforms