THE HIVES RELEASE SHARP, SWAGGERING NEW TRACK 'RIGOR MORTIS RADIO'
THE THIRD SINGLE OFF THE DEATH OF RANDY FITZSIMMONS, RELEASED AUGUST 11
LISTEN HERE // LIVE VIDEO HERE
PRE-ORDER/PRE-SAVE THE DEATH OF RANDY FITZSIMMONS HERE
CURRENTLY ON TOUR WITH ARCTIC MONKEYS!
After tearing up stadiums across the UK with Arctic Monkeys, as well as a monumental Other Stage performance at Glastonbury Festival last month, The Hives release their brand new single 'Rigor Mortis Radio' – the third off their highly anticipated album The Death Of Randy Fitzsimmons, which arrives August 11th via FUGA.
A sheer stomper, 'Rigor Mortis' is nothing short of a swaggering singalong constantly shifting gears. It follows the sublime previous singles "Bogus Operandi" and "Countdown To Shutdown". Listen to "Rigor Mortis Radio" HERE.
The Death Of Randy Fitzsimmons will be available digitally, on CD, and on vinyl. A special limited edition glow in the dark gatefold vinyl with poster will be available exclusively via the band's own webstore.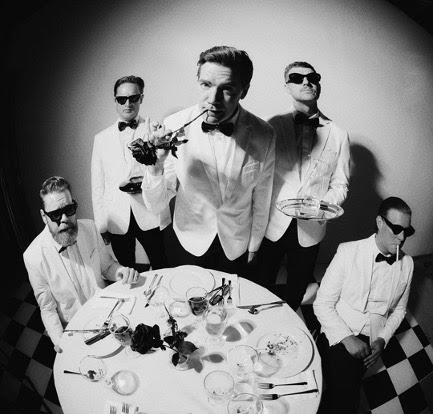 Critical praise for The Death Of Randy Fitzsimmons:
"A collection of 12 high-energy punk-ish songs reminiscent of their best work" – Rolling Stone
"The sartorially smart Swedes are back in all their absurd glory" – Vulture
"They nail it once again…the riffs go hard, the vocals are great, the performance overall is killer" – The Needle Drop on "Bogus Operandi"
"Hard-charging rock music" – SPIN
"Swaggering" – Stereogum on "Bogus Operandi"
"Known for songs at maximum power, with hair-raising guitar riffs, and anthemic, shout-friendly melodies." – Consequence
"The Hives command your attention with Rage Against the Machine-esque solitary heavy note attention grabbers to start the song." – Loudwire on "Bogus Operandi"
"Catalogue-honouring lead single" – Exclaim! on "Bogus Operandi"
"Showcasing their signature high-energy sound the band delivers a fresh dose of punk rock with new-age fury and gusto as catchy as the last" – Mxdwn on "Bogus Operandi"
"The Hives are still the best" – BrooklynVegan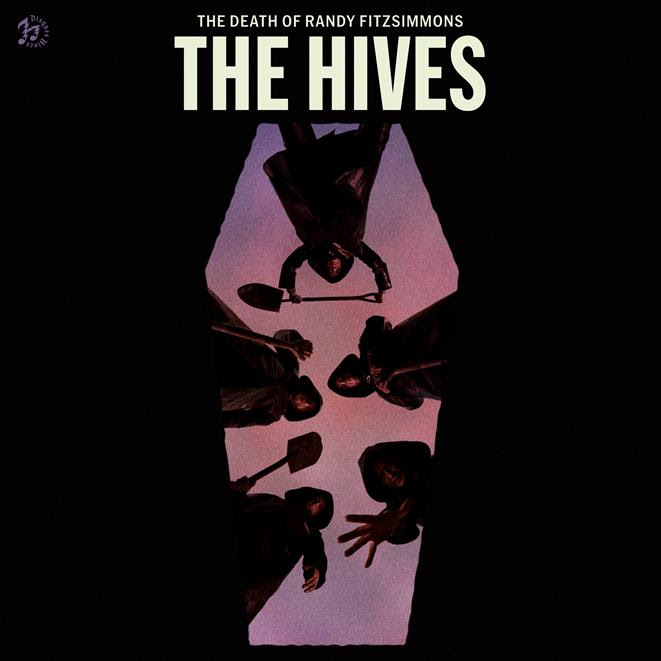 The Death Of Randy Fitzsimmons tracklist:
1. Bogus Operandi
2. Trapdoor Solution
3. Countdown To Shutdown
4. Rigor Mortis Radio
5. Stick Up
6. Smoke & Mirrors
7. Crash Into The Weekend
8. Two Kinds Of Trouble
9. The Way The Story Goes
10. The Bomb
11. What Did I Ever Do To You?
12. Step Out Of The Way
In the twenty-five years since The Hives exploded around the world, they have sold out stadiums and shared stages with everyone from AC/DC to The Rolling Stones. SPIN calls The Hives "the best live band on the planet" and Howlin' Pelle "the greatest frontman in rock," and the BBC dubbed the band "a force of nature." Rolling Stone named Veni Vidi Vicious one of the Top 100 Albums of the decade and "Hate To Say I Told You So" earned a spot on Pitchfork's Top 500 Songs of the 2000's. They have sold millions of albums world-wide with multiple RIAA Gold-certifications. In the time since Lex Hives, the band has released 2019's double A-side "I'm Alive"/"Good Samaritan" as well as a live album via Third Man Records, and embarked on a series of global tours. The Death Of Randy Fitzsimmons marks a true renaissance.
THE HIVES TOUR DATES
US: 2023
Oct 30 – BROOKLYN, NY @ Brooklyn Steel SOLD OUT
Oct 31 – WASHINGTON, DC @ Union Stage SOLD OUT
Nov 1 – CAMBRIDGE, MA @ The Sinclaire SOLD OUT
Nov 3 – TORONTO, ON @ Lee's Palace SOLD OUT
Nov 4 – DETROIT, MI @ El Club SOLD OUT
Nov 5 – CHICAGO, IL @ Bottom Lounge SOLD OUT
Nov 8 – SEATTLE, WA @ Neumos SOLD OUT
Nov 9 – VANCOUVER, BC @ Rickshaw Theatre SOLD OUT
Nov 10 – PORTLAND, OR @ Mississippi Studios SOLD OUT
Nov 12 – SAN FRANCISCO, CA @ Bimbo's 365 Club SOLD OUT
Nov 13 – SOLANA BEACH, CA @ Belly Up SOLD OUT
Nov 14 – LOS ANGELES, CA @ Belasco Theater SOLD OUT
Nov 15 – LOS ANGELES, CA @ BELASCO THEATER **NEWLY ADDED**
UK: 2024
Mar 27 LEEDS, Leeds Academy
Mar 28 – NEWCASTLE, City Hall
Mar 29 – NOTTINGHAM, Rock City SOLD OUT
Mar 30 – WOLVERHAMPTON, The Halls
Apr 1 – GLASGOW, Barrowland SOLD OUT
Apr 2 – BRISTOL, Academy SOLD OUT
Apr 3 – BRIGHTON, Brighton Dome
Apr 5 – CARDIFF, Great Hall SOLD OUT
Apr 6 – MANCHESTER, Academy SOLD OUT
Apr 8 – DUBLIN, Olympia
Apr 10 – NORWICH, UEA SOLD OUT
Apr 13 – LONDON, Eventim Apollo
The Hives on the web
Website | YouTube | Instagram | Facebook | Twitter | Spotify | Apple | Tidal