ARTIST: SEVENDUST
ALBUM: TRUTH KILLER
RELEASE DATE: 28/07/2023
LABEL: NAPALM RECORDS
REVIEWER: ANDREW TREADWELL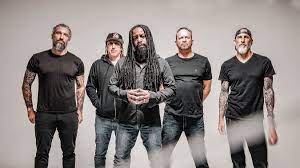 Sevendust are a working class band that aren't about the accolades even though they have sure deserved each one they have earnt. Their 14th album and first for Napalm, "Truth Killer" is a show of strength
and a firm statement from a band with a long career, that continue walk to the beat of their own drum
The title track, "Truth Killer" is the Sevendust you know and love with Witherspoon taking no prisoners with his vocal power, Not taking the easy route, seemingly wanting to challenge themselves more
and more with each release and a song like "I Might Let The Devil Win", is a bare bones opener with Lajon almost crooning over some keys, before the band bridge kicks it up.
Michael "Elvis" Baskette like with all the bands he works with becomes a part of the band and not just a producer, this is evident in all the work he goes, there is not just someone doing a job, there is
someone who is a part of the process and a part of the family.
The one thing about Sevendust, is while they are in your face, raw and aggressive, they deliver a positive message, and their songs always keep the vibes up. Tracks like "Love and Hate" covers the insecurities we all face but is just over the top heavy in a good way, and Fence is just a battering ram crushing everything in its path. Most album closers are an epic cinematic closing statement, Fence is just a sledgehammered fuck you to be remembered by.
"Sick Mouth" is ready for the stage as well as "Messenger", which will have a massive pit waiting for that huge breakdown to kick in. I can already see thousands of people moshing in unison. "Won't Stop the Bleeding" and "No Revolution" and "Holy Water" are displays of Sevendust at their heavy best with the later being the album stand out for me.
"Truth Killer" isn't Sevendust reinventing the wheel. But they made the wheel giant, destructive and just fucking amazing. The long time fan will be happily pleased, and the new fans coming in have a great building block to start from.
TRACKLIST
01 I Might Let the Devil Win
02 Truth Killer
03 Won't Stop the Bleeding
04 Everything
05 No Revolution
06 Sick Mouth
07 Holy Water
08 Leave Hell Behind
09 Superficial Drug
10 Messenger
11 Love and Hate
12 Fence